Validate your products warranty by completing the registraion above and sending to our email address.
As of 01/06/2016 all warranties must be registerd withing 90 days of purchase date.
If a warranty is not registered it will then only carry the 'Australian Consumer Law' gaurantees.
Warranty Cover

Stylistic furniture offers Quality.
Covered with an outdoor 5 year warranty on the aluminium frame you can feel safe with your investment.
Utilizing premium quality materials and highly skilled craftsman, our designed brand is maufactured and woven by hand with great care and attention to detail.
A 5 year warranty applies to aluminium frames from the date of purchase for manufacturing faults and defects.
- Corrosion of Aluminium
- Manufacturing faults in welded joins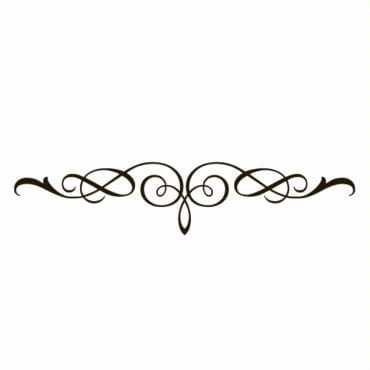 Stylistic furniture offers Quality.
Covered with an outdoor warranty on the SUNPROOF fabric range you can trust the results.
This fabric is outstanding.
Cushions have been crafted from superior lasting "SUNPROOF" fabric with Dacron wrapped High density foams.
A limited 3 year aplies to cushions and slings (conditions apply)
Key features include;
- Anti mildew
- Fully machine washable
- Heavy 250+ GSM
- Double overlocked zipping
- 95% water repellant
Check out full list of benifits in store or online*
Easy care instuctions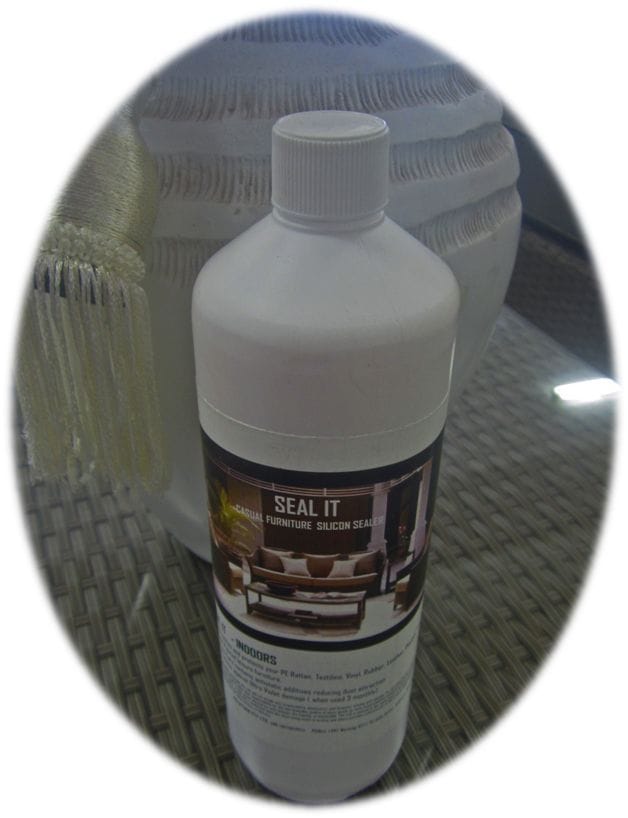 SEAL IT
To extend the life of your furniture we recommend the use of our protective spray "SEAL IT" on all out door furniture frames, slings and rattan. This will help protect against harmful UV rays, salt sprays and other airborne contaminents such as mold and mildew. If your furniture is exposed to long hours of sunlight and rain, the use of a protecting cover is recommended (do not use a tarpaulin as they do not breath) car covers are the best.
We use this product on our furniture and aluminiun to help maintain the longevity of its outdoor use. It is much like when you waterproof your shoes, you get longer in the weather when you do so.
Also makes it a breeze to wipe off any food or drinks, mud and dirt from all surfaces of your outdoor furniture.
We recommend for easiest maintenance you apply this to your furniture every 6 months.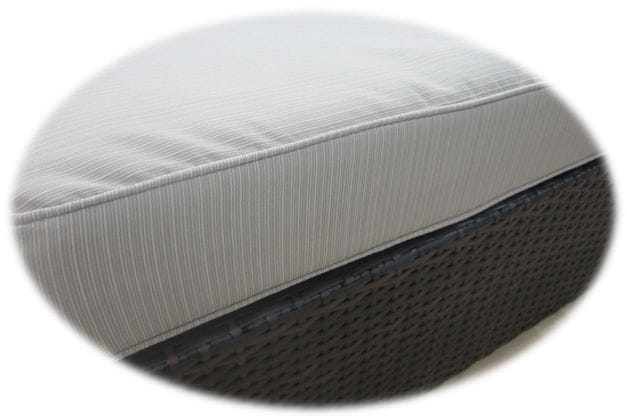 Cushions have been crafted from superior lasting "SUNPROOF" fabric with Dacron wrapped High density foams.
To optimize the life of your cushion simply keep them clean, remove any food or spills immediatly and brush off any dust and grime.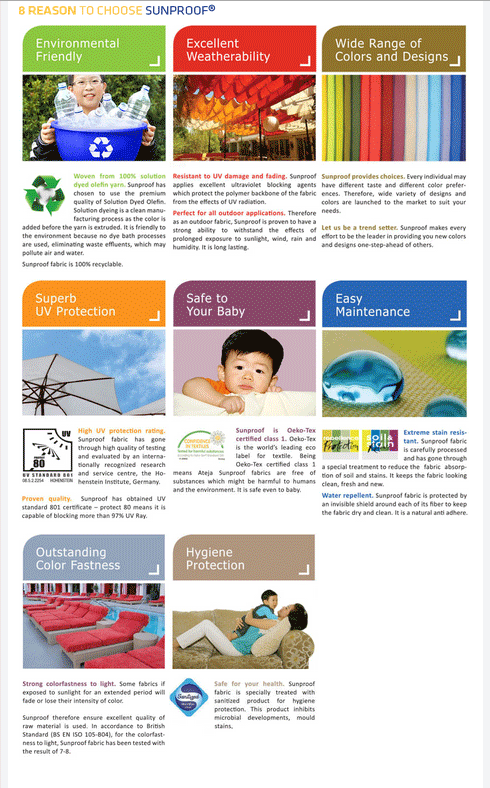 SUNPROOF® is Ateja® premium quality of outdoor fabric which provides the exclusive solution for your comfort. It is produced with a series of technical data proving the high performance of the fabric against the natural weather ( rain or shine ) according to ASTM G53 - 96, American Standard.
All SUNPROOF® FABRICS HAVE PASSED THE STRINGENT TESTS ACCORDING TO BRITISH STANDARD AND OTHER INTERNATIONAL STANDARDS :
> Color fastness to light, to rubbing, to chlorinated pool water, water repellency, soil & stain repellency, anti bacterial, anti mildew and UV resistance.

SUNPROOF® IS OEKO-TEX CERTIFIED AND 100% RECYCLABLE
As a proof of our commitment to the environment, all our manufacturing facilities have been certified for their environmental - friendly quality - ISO 14001.

Therefore, as a company that cares for the environment and produces reliable quality outdoor fabrics, our products have been distributed world wide. Currently, Sunproof® has been trusted as a quality outdoor in Australia, Belgium, Canada, France, Germany, Italy, Mexico, Netherland, New Zealand, Norway, Spain, Sweeden, Switzerland, United Kingdom, United States of America, just to name a few.
Sunproof® provides you excellent choice for value, durability and comfort.
---------------------------------------------------------------------------------------------------------------------------------------------------------------------------------------------------------------------------------------------------------------------
Refunds and returns policys
All refunds and returns are assessed at our service center in the Gold Coast. Customers are responsible for any transport costs on returns, so be sure to check your goods before signing acceptance of them.
We do offer refunds on small issues with store credit or replacment cover on all goods and on major faults we can offer a full refund.
This must be assessed by our service center before any decisions can be made.
Exclusions
- Wear and tear
-Damage caused by abuse, improper care and negligence
-Commercial use (unless covered by our commercial warranty)
- Home improvements / after market adjustments
- Glass against breaking or scratching
- Warranty is not extended on repair of goods
- Knife cuts or similar on products
- Legs of tables been dragged and broken